Skateboarders' pipe dreams hit pandemic-sized problems
Share - WeChat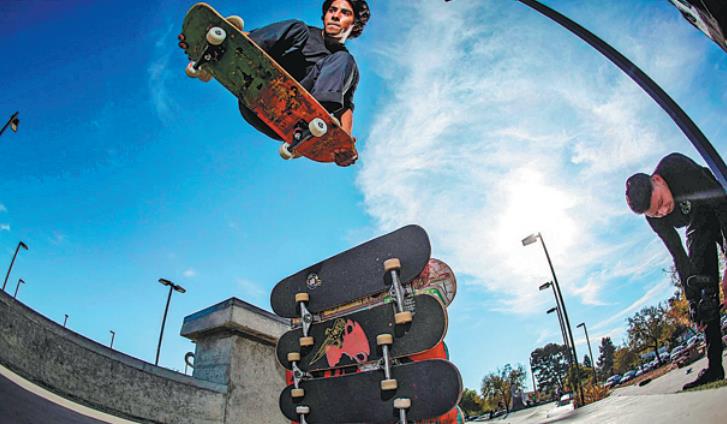 Skateboarding was confirmed as an Olympic sport in August 2016 and scheduled to debut at Tokyo 2020. But when the COVID-19 pandemic pushed the Games back to this summer, the world's best boarders were left in limbo.
With major competitions canceled by the pandemic, only three qualifiers are scheduled prior to the Olympics, which open on July 23: the May 17-23 Dew Tour in Des Moines, Iowa; the May 31-June 6 Street world championships in Rome; and the Park world championships from June 14-20, at a location yet to be determined.
Olympic skateboarding will consist of two disciplines-Street and Park-each comprised of preliminaries and finals. Street consists of urban obstacles like stairs, handrails, curbs, benches, walls and slopes. Park competitions are held on a hollowed-out course, often involving halfpipes similar to those used in snowboarding.
Twenty skaters will compete in four heats of five, and the first eight from the combined ranking of the heats will advance to the finals.
For the youngest member of Canada's national skateboard team, the waiting is the worst part. Toronto's Fay Ebert, 11, just wants the opportunity to show she belongs with the world's best-and possibly join Syrian table tennis prodigy Hend Zaza as the youngest Olympian in Tokyo.
"If she goes to all three qualifiers and skates well, Tokyo remains very much a possibility," Ebert's mother, Elisabeth, told Canadian Press on the weekend.
"There's also a chance that Fay can go to the next Games in Paris in three years.
"There's no financial support, that's a big one. Going to these events is all out of pocket. The pandemic has made it very difficult to get sponsors and have support so they can help fund the athletes' training for the Olympics."
Ebert, who has only been boarding for two years, is currently ranked No 44 in the world.
Meanwhile, 23-year-old Maddy Balt believes representing Canada at Paris 2024 seems a more likely scenario.
"I really want to be at the Paris Games. I don't know, with everything that's happening with COVID, what Tokyo is going to look like and if that's really a possibility right now just because of the lack of qualifiers we're going to have," said Balt.
"Funding has been almost nonexistent, but Canada Skateboard has been able to help us out by giving us access to gyms, trainers and stuff like that. But because the national Olympic committee hasn't accepted us into the network yet, we don't have access to all the funding that we should."
A shortage of qualifiers hasn't been the only difficulty for the two boarders. Due to public health restrictions, the sense of community within the sport's culture has also diminished during their time training in Toronto.
"Because of COVID, I haven't been able to skate with anybody outside," Ebert said. "Some days I don't want to skate at all, but once I get to the park it's fun, because I just practice all my tricks and get into the flow of skateboarding.
"Sometimes I'm a little bit down going there because nobody's around, but I have to take advantage of what I have right now."
Having been unable to train with anyone besides each other when Balt is in town, the two have grown closer in preparation for future competitions.
"We've definitely become closer in the past year or so," Balt said. "We did a trip where she came out to the West Coast and we were filming a little documentary, and we've been training together in Toronto for the past couple of months.
"Our relationship is pretty chill. Fay is a fun little kid and ... it's definitely been a blessing that we've had each other in the past little bit, because it would've been a lot different if we had nobody else to skate with."