British pub reopening poses grave infection challenges
By WANG MINGJIE in London | China Daily Global | Updated: 2021-04-14 09:12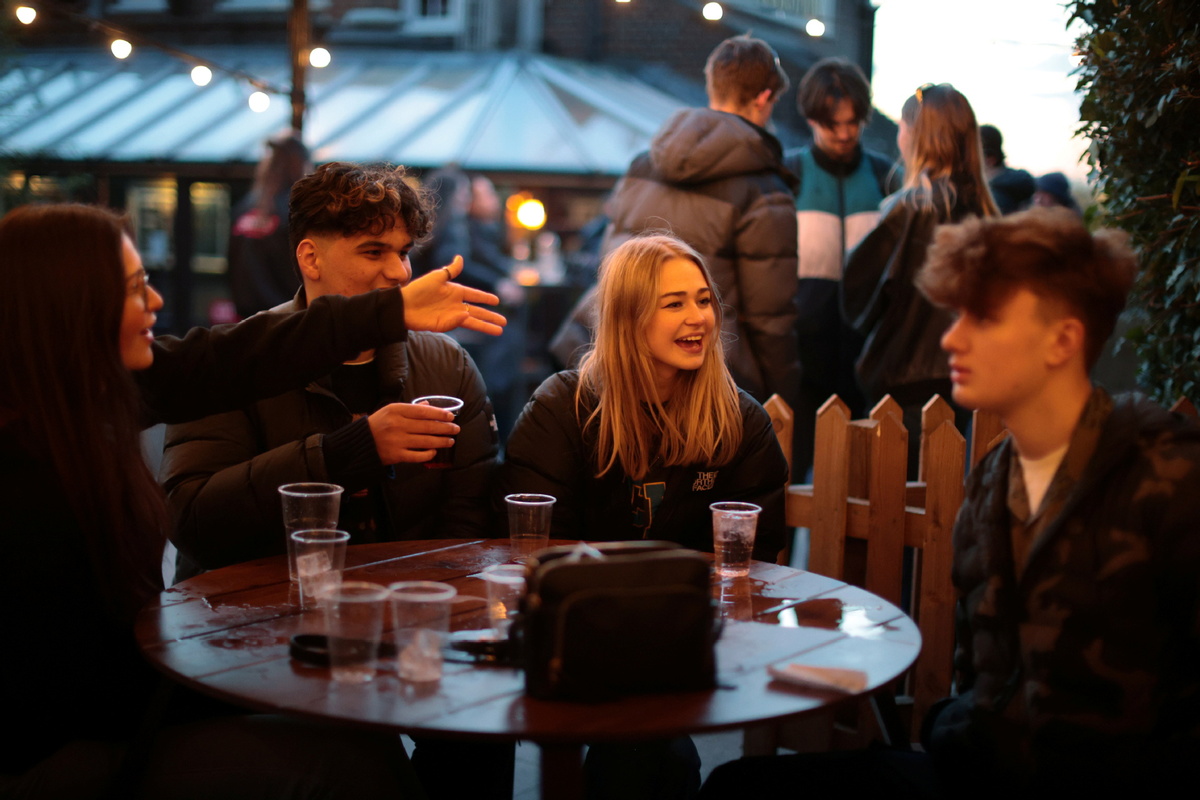 With outdoor pubs and beer gardens in England having reopened on Monday, researchers fear pub operators could encounter challenges to preventing COVID-19 transmission on their premises, as intoxicated customers are less likely to observe social distancing rules.
Niamh Fitzgerald, director of the University of Stirling's Institute for Social Marketing and Health, said "It is challenging to manage COVID-19 transmission risks in bars and pubs where alcohol is served.
"This is due to the social atmosphere of any bars and to the additional factor of alcohol, as it impairs both people's willingness and ability to comply with measures in place."
Fitzgerald recently led a new study questioning whether publicans can effectively and consistently prevent COVID-19 transmission, after researchers observed risks in licensed premises last summer.
The findings showed that despite the efforts of bar operators and guidance from government, potentially significant risks of COVID-19 transmission persisted in at least a substantial minority of observed bars, especially when customers were intoxicated.
"Businesses expressed an intention to work within the guidance, but there were commercial and practical challenges to making this a reality," Fitzgerald said. "We also observed several incidents of greater concern, including customers shouting, embracing or repeatedly interacting closely with several households and staff, which were rarely addressed by staff. "
While the study raises difficult questions for governments and bar operators, Fitzgerald said it will not come as a particular surprise to most that people are less compliant with COVID-19 measures when they have been drinking alcohol in bars, and it is important that this is acknowledged and taken into account in the planning of further re-opening.
Emma McClarkin, chief executive of the British Beer and Pub Association, said: "The overwhelming majority of pubs across the United Kingdom worked incredibly hard to adapt to the government guidelines when they first reopened last year. In fact, pubs were commended by the UK Government for their diligence and proactivity in doing so.
"Our sector will continue to work together to ensure all pubs follow the correct government guidance and regulations," she said. "Those pubs who did not follow the rules were rightly subject to enforcement action and closure if necessary, but the actions of a few cannot be allowed to undo the hard work of so many others."
According to the British Beer and Pub Association, just 40 percent of pubs in England-around 15,000-would be opening for outdoor service from April 12. The next major restriction easing is scheduled to come on May 17, when indoor dining and drinking will be permitted once again.
The association said this makes it all the more important that the government sticks to its road map dates to ensure pubs can reopen indoors from May 17 and without any restrictions from June 21, so they can all reopen and begin their recovery.
The figures announced by the Office for National Statistics showed beer sales in British pubs dropped by 56 percent in 2020, a fall of 7.8 billion pounds ($10.72 billion).