Water discharge call draws fire
By WANG XU in Tokyo, LINDA DENG in Seattle, HOU LIQIANG and LIU XUAN in Beijing | CHINA DAILY | Updated: 2021-04-14 07:25





Share - WeChat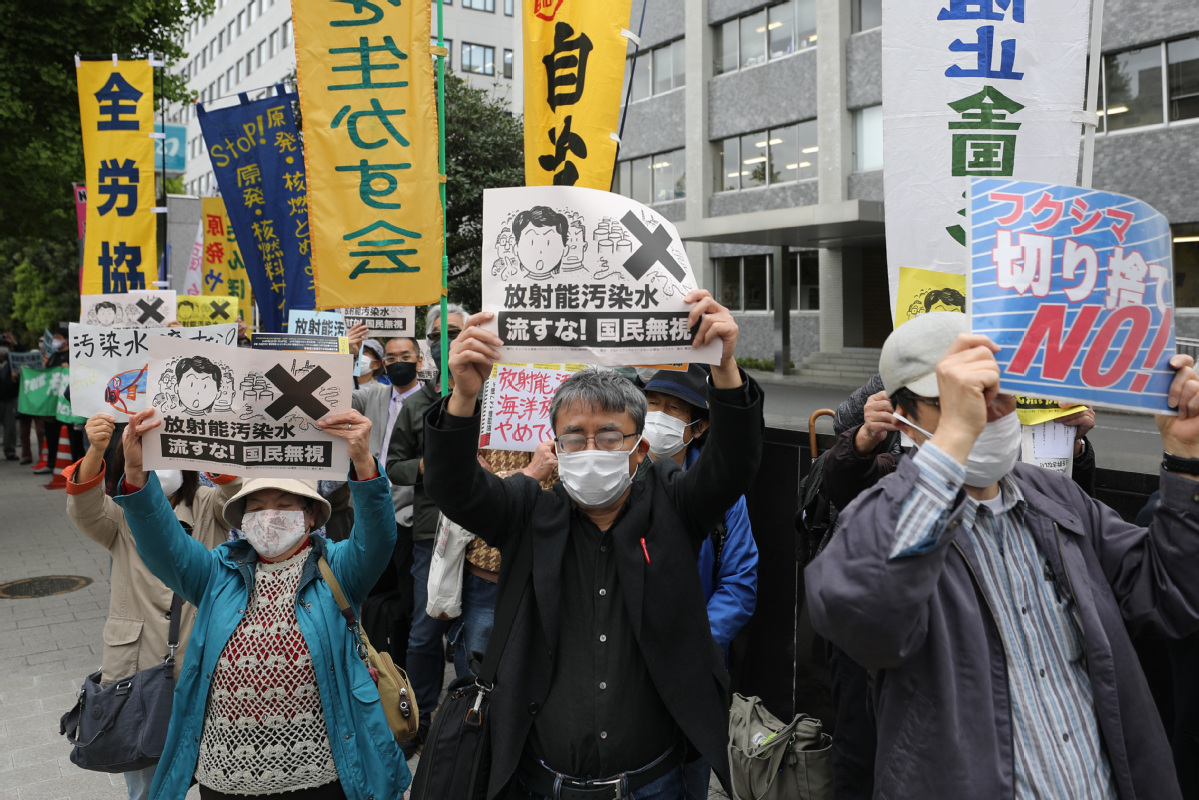 The United States expressed support for Japan's decision.
"Japan … has been transparent about its decision, and appears to have adopted an approach in accordance with globally accepted nuclear safety standards," the State Department said in a statement on its website.
Ken Buesseler, senior scientist at the Woods Hole Oceanographic Institution in the US, said independent studies should be established for "seawater, seafloor and marine biota (all types of life in the sea), and not just for tritium, but for all of the radionuclides currently in tanks at the site.
"Given the strong currents such as the Kuroshio off Japan, any radioactive contaminants released from Fukushima Daiichi that are soluble would move largely across the Pacific to the east and not impact the coast of China, reaching the North American west coast in one to two years," he said.
Bresseler added that insufficient information has been provided about the different radionuclides, other than that tritium is in each tank.
"Radioactive carbon is only one form of radioactive contamination in the tanks that could be released. Radioactive forms of strontium, ruthenium and cobalt are also present according to TEPCO's (plant operator Tokyo Electric Power) website. Independent analyses of the tanks are needed.
"The non-tritium forms of radioactivity have greater health impacts and are more likely to end up associated with seafloor sediments and marine biota, such as fish. So a release plan that only considers tritium is not able to be fully evaluated."
Jin Yongming, professor of maritime laws at Ocean University of China, said the dilution and discharge process must be subject to international supervision, as the ocean belongs to the world.
He said that as a signatory to the United Nations Convention on the Law of the Sea, Japan has the obligation to protect and preserve the marine environment, and to submit all relevant information to other countries.
Buesseler said what is most worrying is that nothing is known about the contents of each tank. Also, the cleanup has not been witnessed to the extent required for release to be considered.
"My concern is largely not about tritium, but the other forms of radioactivity that are of greater health concern-those more likely to be associated with seafloor sediments-hence they would not move with ocean currents and would accumulate on the seafloor near Japan. These non-tritium radionuclides are more likely to enter the marine food chain, so there is a greater concern with fisheries," he said.
"While we have been told that these other contaminants can be, and will be removed, they need to take this step first and then show, with independent monitoring, the whole range of radioactive contaminants in each tank."