Japan harms global community by dumping nuclear waste into sea
By Zhao Manfeng | chinadaily.com.cn | Updated: 2021-04-13 14:19
The world is outraged upon hearing the news Japan is to release more than one million tons of contaminated water from the wrecked Fukushima nuclear power plant into the sea.
The decision immediately aroused global concern, anxiety and anger.
Although the Japanese government has repeatedly claimed the concentration of nuclear sewage discharged "aligned with current international good practices", many scientists and environmental protection organizations have expressed their doubts. Due to the huge volume of nuclear sewage and limited existing technology, it is impossible to fully predict what potential harm the discharged sewage will cause to the marine environment and human safety.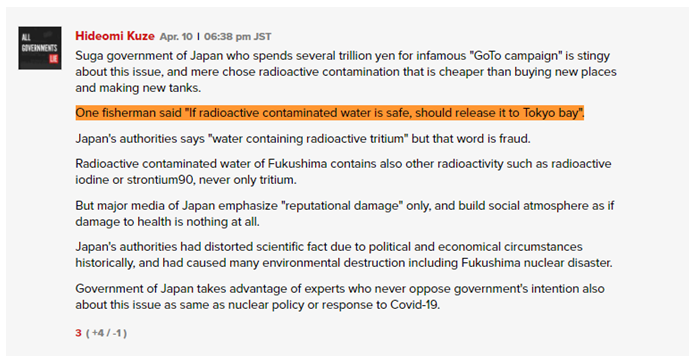 As one Japanese fisherman puts it, "if radioactive contaminated water is safe, they should pour it into Tokyo Bay."
"They told us they wouldn't release the water into the sea without the support of fishermen," Kanji Tachiya, who heads a local fisheries cooperative in Fukushima, told public broadcaster NHK ahead of the announcement.
Recent polls by NHK and the Asahi newspaper have found more than half of those surveyed oppose the release.
Nuclear accidents are not unique to Japan. But the way the Japanese government handled it is indeed disappointing.
Tokyo had initially hoped to make a decision on the discharge of the treated water in October last year, but later decided it would need more time for discussion amid staunch concern about reputational damage to marine products.
As the world's third-largest economy, Japan has the option to build more tanks in Fukushima to permanently store the wastewater. Instead, it has made an irresponsible and unjustified decision to contaminate the Pacific Ocean, at the cost of the health of local residents and people in the Asia-Pacific region, especially China and South Korea.
China and South Korea have expressed concern from the international community regarding what will happen with the radioactive waste fast accumulating at the Fukushima Daiichi facility and the potential for widespread marine pollution, as well as the safety of the people and the neighboring environs.
Japan often asks other countries to fulfill their international responsibilities, and right now, the international society is watching Japan.
Once again, it's letting us down.