School phone ban aims to boost grades
By Zou Shuo | CHINA DAILY | Updated: 2021-04-13 08:56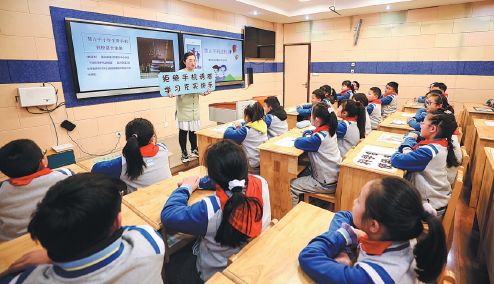 Many students have welcomed the ruling after seeing their class work improve. Zou Shuo reports.

After confiscating three smartphones from the same student, Yu Liangliang, head teacher at a high school in Wuhan, Hubei province, decided to give the girl a twoday suspension to reinforce a classroom ban on the devices.
"The first time I took her smartphone, she told me she would not bring one to school again, but she broke the promise twice and I had to take stricter measures," Yu said.
The move is in line with a ruling by the Ministry of Education, which issued a total ban on smartphone use in classrooms at all primary and secondary schools at the start of the spring semester.
If students have a genuine need for a smartphone at school, a special request must be submitted to the authorities along with the written consent of their guardian, the ministry said.
If the request is approved, the student must hand in their smartphone upon arrival. Schools should also put further measures in place to better meet students' needs to reach their parents by phone while on campus, the ministry said.
Yu said he has brought in a number of punishments for smartphone use during class. They range from a warning to a reduction in performance scores, from calling parents into school to suspension.
"Even with the ban in place, it is hard to manage smartphone use because teenagers are not keen on following rules," he said. "Without the ban, the ringing and buzzing of phones would be commonplace during class."